文藻外語大學模擬聯合國冬令營 Wenzao Ursuline University of Languages Model United Nations Winter Camp
發布日期 2021-11-10 16:44:00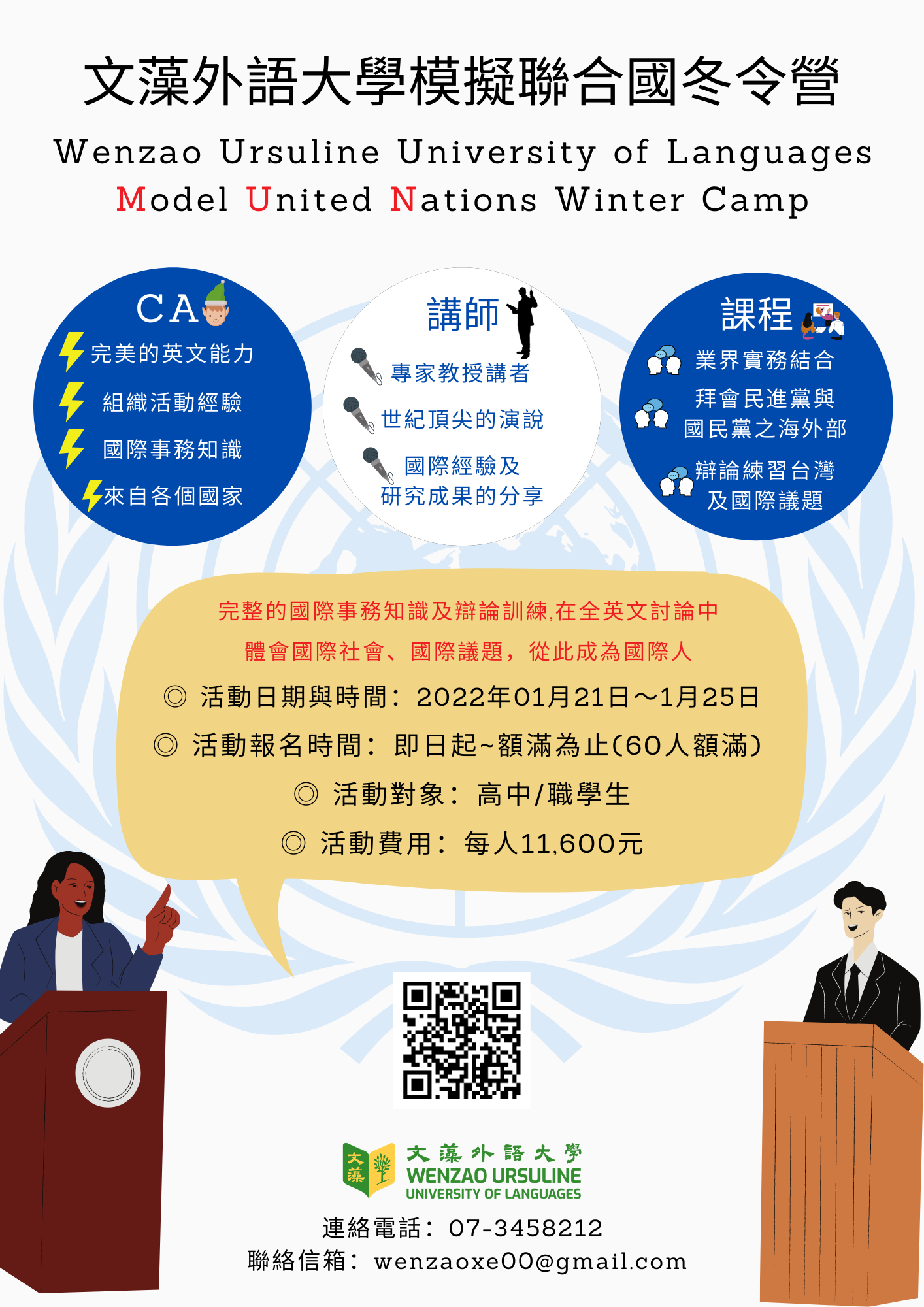 完整的國際事務知識及辯論訓練,在全英文討論中體會國際社會、國際議題,從此成為國際人。
寄懷台灣、看向七海洋、邁向世界的人生!
文藻模擬聯合國三特色,ONLY HERE,NO WHERE ELSE:
1. 由文藻國事系及研究生擔任營隊CA,分別來自蒙古、印尼、俄羅斯、西班牙、德國、日本、台灣等國家。他們有完美的英文能力、組織活動經驗、國際事務知識,以及外向活潑的個性,在高雄各大教學單位、活動公司任職。讓CA們帶領你們在文藻獨特的全英文泛國際環境下,充分學習與體驗。
2. 八位專家教授講者來自聯合國組織、瑞士國際安全組織、中華民國外交部南區辦事處處長、經濟、政治、文化領域的留美留英博士等等。世紀頂尖的演說、國際經驗及研究成果的分享,以通俗易懂中英文並行的方式讓學員能充分吸收,探頭世界,理解文藻已然成為國際級名校的實質內涵。
3. 與業界實務結合,一整天的校外參訪活動,拜會民進黨與國民黨之海外部討論國際事務,讓學員充分感受台灣外交決策之關聯性。模擬聯合國之辯論練習,採用台灣相關議題、及國際議題,如難民、內戰、以及食物缺乏問題,讓學員跳出框架,感受世界。
→營隊時間:110年01月21日~1月25日 五天四夜
→報名時間:即日起~額滿為止(60人額滿)
→活動對象:高中/職學生
→活動費用:每人11,600元
→報名方式(完成繳費&Google表單填寫才算報名成功喔)
1. 文藻推廣部網路報名並繳費
2. 填寫Google表單
繳費傳送門:
→營隊注意事項:
1. 營期結束後提供營隊時數證明。
2. 採全英語活動,活動人數預計60人,額滿為止。
服務信箱:wenzaoxe00@gmail.com
服務專線:07-3458212 (營業時間1400-2100)
This camp provides a complete understanding of international affairs and the procedures of the United Nations. 
In these packed 5 days, you will learn from prestigious scholars, who are experts in various fields that are known as International Affairs. 
With the acquired knowledge students can use it to debate and have discourse in the simulation of the United Nations on contemporary issues that challenge not only Taiwan but also the International Community. All done in a fully English environment. 
So come challenge yourself, your classmates, your professors, and the whole international community in Wenzao's Modul United Nations Winter Camp
The following three points are the characteristics of the camp of Wenzao Model United Nations, ONLY HERE, NO WHERE ELSE:
1. The 10 camp assistants who will be assisting the students at the camp come from different countries such as Mongolia, America, Russia, Indonesia, Taiwan, and many more. They are all students of the Department of International Affairs in Wenzao. They have perfect English ability, knowledge of international affairs, experience in teaching and organizing activities, and an outgoing and lively personality. 
They have partaken in major events and competitions and worked at major teaching institutes and companies in Kaohsiung.
2. Eight experts, professors, lecturers, including a former United Nations worker, Swiss International Security Organizer, and the Director of the Southern Office of the Ministry of Foreign Affairs of the Republic of China all will give top-level speeches to share their international experience and research results
3. The winter camp is a combination of lectures, firsthand learning simulations, and a full day of off-campus visits. Students will firstly gain knowledge from the intellectuals, and then exercise that knowledge in the debate exercises of Model United Nations. The simulation will tackle issues related to Taiwan and new challenges that the international community faces such as refugees, civil wars, climate change, and food shortages so that they can learn how nations find a solution to impossible tasks.
Lastly, the students will be invited to go to the DPP and the KMT in Kaohsiung City to discuss international affairs with major domestic political parties, so that students can fully experience and see the international discourse from Taiwan's point of view. To fully grasp and understand the relevance of Taiwan's foreign policy decisions. 
→Time:2022/1/21~1/25
→Registration Time: From now on ~  2022/1/10
→Members: Senior high school/ Vocational High School
→Fee: NTD 11,600
→Registration method: 
1. Click the link, complete member registration of the Division of Extention Education, and pay the fee. 
2. Complete the Google form.
Contact us:
Phone: 073458212
Email: wenzaoxe00@gmail.com